Overlord's Zhor Universe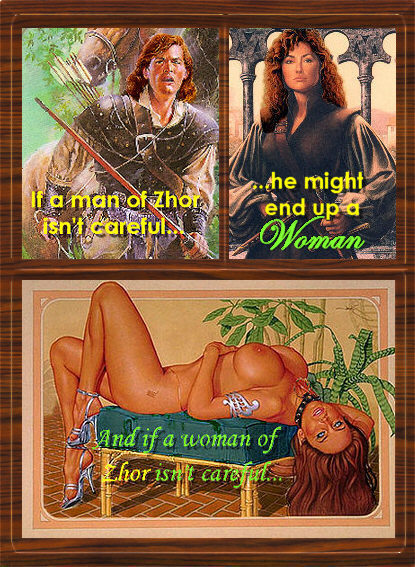 Welcome to Overlord's Zhor Universe. This site is a satellite of Freya's Sexual Transgender website, but also acts as a stand alone website for those interested primarily in Zhor. This site is run and maintained by Overlord and is based on the Zhor Universe created by Overlord.

Zhor is a story universe similar to John Norman's World of Gor novels with a transgender twist. It features "serum girls," women who were formerly men before being transformed by the genetic cocktail called "Ruk's Serum." For a detailed write up of this Universe (and guidelines prepared for guests who are interested in writing in it) go to "The World of Zhor" link given below.

Freya's Sexual Transgender
The main website hosted by Freya that is a site dedicated to adult fantasy and science fiction stories and captioned images of a transgender nature.

The World of Zhor
Details and guidelines to the Universe of Zhor.

Overlord's Zhor
Stories, Captioned Tales and Captioned Images set in the world of Zhor by Overlord.


Guests of Zhor
Stories, Captioned Tales and Captioned Images set in the world of Zhor by guest contributors. Currently Christopher Leeson's serialized story in verse ("Busted") is appearing here, offering a new segment each time we update. Also, don't miss the great fiction and text with images contributed by our regular guest Spiff.

Featured Link!
Aardvark has posted a full-length Zhor novel at The Big Closet, entitled "The Warrior of Batuk." For plot, characters, and craftmanship it can't be beat. Check it out at this link!

What's New on Zhor?
Check what's been most recently added, including this month's new bonus illos. Send an email to Overlord himself.




FREE SEX E-CARDS HERE