Spellbooks - Gangbang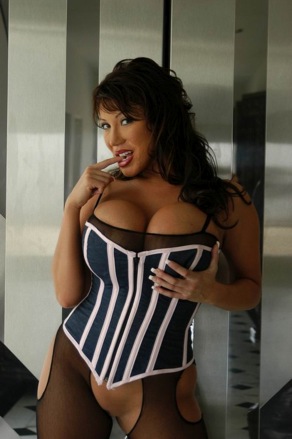 My name is Chris. I am a pretty normal 19 year old student who lives in a student house with three other guys. I have known Lex, John and Tony about six months now and I guess they have always been a little more boisterous than I have often out partying and bringing girls back for one night stands.
It was something that happened recently that changed my and their life forever. I found a pair of rather strange books.
I had found them in the university library and they seemed out of place. I had never seen them before. I brought them back home with me and discovered they were a pair of spellbooks. Of course I did not believe the spells were real until messing around I tried one and it worked.
I soon showed the guys and we all tried them out but in the end only Lex and I had any real ability to cast them. We soon discovered one which we started to put to good use. A transformation spell.  Lex was the first I cast it on, on the Tuesday night and I used it more to enhance his good looks and on his request make his cock a little bigger. He was very pleased with the results and went out that night to get laid. When he returned the next day he had a happy grin on his face and reading the spell I found as he has cum in the girl without condom he was bound to that form forever. He did not care in fact he was overjoyed. Wednesday night I did the same for John then Thursday for Tony all with the same effects they came back stuck in their form and extremely pleased. Friday night it was my turn but I had something else on my mind.
Lex had the book out. "So Chris, ready to get a studly form so you can go out and fuck some sluts like it's nobodies business?"
I smiled a little nervously. "Umm…well.. I can do that anytime. I thought I might try something a little different." I was really nervous, but I had not found a way to transform myself yet, could only cast the spell on the other. "I want to see what it feels like to be a woman." It was something I had always been curious about, how it must feel, how different people would react to me. Not something I would want permanent but to try out would be interesting.
The three guys stared at me a little dumbfounded before Lex eventually broke the silence. "You want to be a chick?"
"Well..just to try it. I am just curious and be good to try before you know I lock myself in any form."
There were some raised eyebrows but eventually Lex nodded. "Okay, what do you want to look like?"
"I will leave that up to you." I said with a shy smile.
He cast the spell and within seconds I found my body and clothes transformed. I stared down at myself in shock. Oh typical Lex he had given me a very slutty, busty body of oriental mix. I quickly studied myself in a mirror stunned at how I looked now and felt and letting my hands roam my body.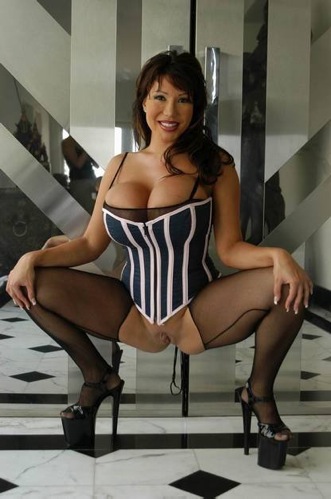 They three guys were watching my every move with lustful expressions on their faces.
"Hey baby you look amazing as a chick." Tony said with a grin.
"Oh yeah, I think I prefer you this way. Maybe you should try that body out a little." John added and I could see his hand moving down his pants to stroke himself.
I blushed deeply at the attention. "Try it out? How?" I asked coyly.
"Oh you know what he means." Lex said with a predator like grin. "You wanted to know what its like to be a woman. Well you should experience the full joy of it. You have three very well hung studs here and damn slut you look just ready for a hard fuck."
It took a little bit of persuading, all three trying to talk me into it. But I had to admit I was curious and damn this body was horny. If I was back in my old body offered to change then be fucked I would have said no right away but my new horny feelings as a woman was effecting me now. Eventually I gave in and  said yes.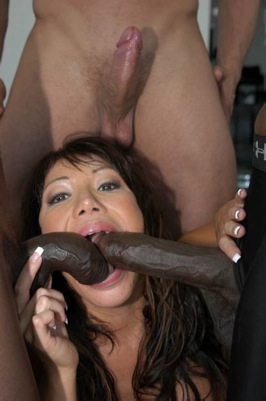 Before I could reconsider all three guys had their cocks out and had surrounded me. The strong masculine scent started to turn me on as strange sensations went though me. I should be freaked out, perhaps disgusted by this, but instead I just wanted to stroke and suck.
I took two big hard cocks in hand and started to stroke them feeling their hardness and throbbing heat in my hand. I parted my lips and took one into my mouth tasting its salty masculine taste which tasted strangely good to me. I sucked it deeper down and started to move back and forth taking it in and out of my mouth before moving onto the next and repeating. I continued to do this with all three taking each in turn sucking and stroking until eventually I started to take two at a time.
I felt so slutty and unbelievably feminine and submissive. I never imagined I could feel this way, a slave to these big hard cocks.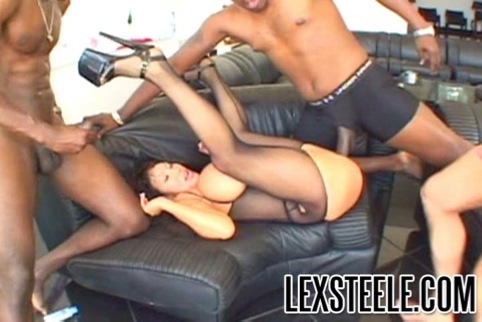 Eventually they pulled back and lay me down on the couch. Thier hands hands pulling some of my clothes free and tossing them aside before I saw Lex loom over me. He pushed my legs back until I could feel my knees press against my massive tits then before I knew it I felt the tip of his cock press against my now very wet pussy lips.
"You want this, slut?" He asked aggressivly, He rubbed his cock head up and down my lips slowly. "You want my big hard cock in your pussy? I real man's cock. Not like you used to have, you wanted to be a slut and you deserve to be one. Now do you want a real man to fuck you and put you in your place?"
His words humiliated yet at the same time turned me on even more. I wanted it bad, I needed his cock inside me. "Yes..Yes...please fuck me with your big cock and put me in my place." I cried out.
He needed no further encouragement and started to push into me. I cried out as his cock started to fill me, stretching my tight pussy as he guided himself into me. The mix of pleasure and a little pain from being stretched felt good. Eventually I felt his heavy balls rest against my arse and I knew he was all the way in. He then started to slide his cock in and out of me. I was in seventh heaven. I had never felt anything so good, certainly not as a man. I could not believe how good this felt as he started to pound in and out of me using me.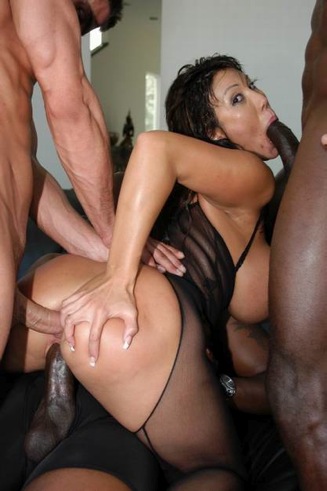 Soon Lex pulled out, sat back and pulled me on top of him. He guided his cock back into my wet pussy and started to slide it in and out of me. Meanwhile John who had been stroking himself off near me brought his cock to my lips and forced me to open them so I could suck on his cock. I moaned as I sucked on him feeling so slutty. Yet there was more to come as I felt something press against my butthole. I looked back to see Tony behind me and struggled. "No wait.." I started to protest but too late he started to slide his cock into me. I felt myself being stretched and the pain of him claiming my arse but soon I started to adjust and get used to it. God I felt so full of cock, all three holes filled as I sucked off John and let Lex and Tony fuck me hard.
They continued fucking and using me like this for a good while and I felt my pleasure building and building until it was too much. A huge orgasm ripped through my body sending pleasure through me like I have never felt before as the cocks pounded in me relentlessly.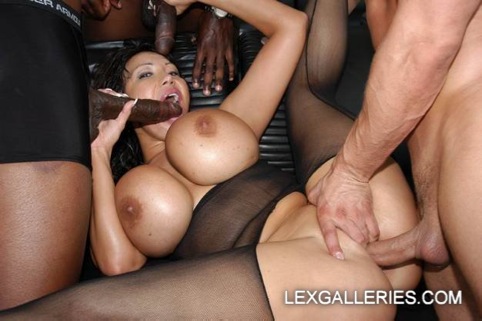 Eventually they all pulled out and decided to finish off one at a time. They lay me back and Tony thrust his big cock into my pussy and started to ram away hard. I thrust in and out so roughly my huge tits started to bounce wildly. I moaned and whimpered knowing I was just a slut to be fucked to these guys.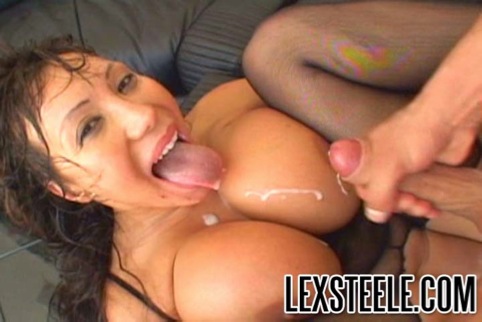 Eventually I sensed Tony was coming. "Cum on my tits." I cried out as I suddenly realised if he came inside me I would be stuck in this body forever. Obviously having watched plenty of porn the idea appealed. He pulled back and started stroking himself over me until thick blasts of his cum splattered over my tits and tounge. I gasped at the feel of his hot cum against my flesh and its inoxicating taste in my mouth.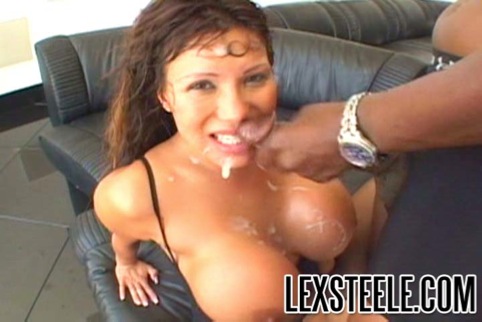 Next John thrust into me and started fucking away causing more mini orgasm to engulf me. I bucked and moaned under his furious assault, feeling so much better to be the receiver, the submissive one than the aggressor and penetrator when I was a man. He soon pulled out and started to splash his warm cum all over my face and titties coating my flesh. I must have looked like a total cum slut.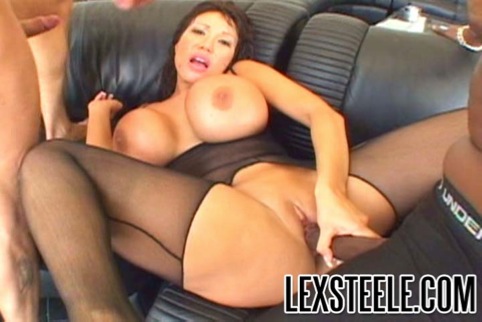 Last of all Lex moved between my legs. He slid his cock slowly into my tight pussy. Lex was the biggest of all well over 12 inches and very thick. I moaned feeling his cock slide back into me again. this was heaven. This was pleasure.
He began to pound into me and I could feel my pleasure building. I knew I was not far off climax.
"You were meant to be a slut. No wonder you asked to be transformed into one. You were a poor excuse for a man." He said as he fucked me. "You found your true form. You should stay in it. I am going to make you the slut you are forever. I am going to cum in your hot pussy and bind you to that form."
I gasped, my eyes widening at what he meant to do. "No..please...I just wanted to try it out...I am not sure I want to be stuck like this."

"Tell me to pull out and not finish this and you can change back. But I know your orgasm is close. I know you want that and want to feel my cock spurting deep inside you. Do you want me to fuck you, use you like the slut you are?"
I knew I should say no, should tell him to pull out but it felt so good. Would I ever feel this again? I couldn't. "Please...fuck me....use me..make me your slut.." I eventually cried out causing him to grin.
He started thrusting into me harder and faster fucking me like I had never been fucked before. I moaned and squirmed underneath him feeling my pleasure build and build until eventually I felt him tense and suddenly a wash of thick warm seed sprayed deep inside me. I could feel in filling me and it was too much. I screamed out in pleasure as a massive orgasm hit e causing my pussy to spasm around his cock milking it as more cum filled me, flowing into my womb.
I suddenly realized I was stuck like this forever.
A few minutes later their was a ripple through the room as reality changed so that is was as though I had been a woman all my life. Now only I and the three guys new the truth as new memories filled our minds as well as the old.
Lex soon claimed me as his girlfriend and I moved into his bedroom. Of course he did not mind the other guys fucking me whenever they wanted and sometimes they even gangbanged me like that first time. Sometimes Lex invited other guys over to fuck me too and I soon got a rep as quite a slut.
I guess part of me misses my old life as a man. But really despite being treated like such a slut I love my new life now. And I am happy to have such a strong powerful black boyfriend to look after me.