---
---



---
---


To all the exulted Mistresses and Masters who have chosen to visit my humble pages, welcome!
My Mistress apologizes to you for making you wait while she disciplines some very naughty slaves. But, she invites you to enjoy yourself by reading some stories. Just click on the link at the bottom of the page.
To the pathetic slaves who are visiting, ... HOW DARE YOU KEEP THE MISTRESS WAITING!!!
She is very angry at the unbelievable gull that such a worthless creature would keep her waiting. Now, we will both suffer incredible torment. You may now kneel and worship her most glorious feet. Then you will be shackled to the wall and punished severely for your arrogance.
Our mistress has a special message for her naughty little worm.
Click on the mistress' picture so that you can hear her voice and feel her wrath!
...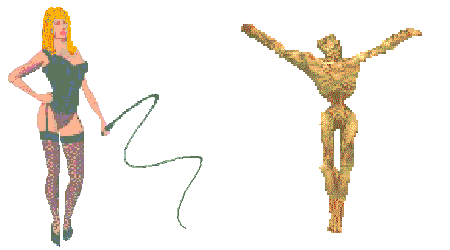 ---
About my page and my stories
As you must have figured out from my "security screen", this page is a place where I can express my fantasies without getting into too much trouble. Once you have read several of the stories, you will also realize that I sometimes like to get into trouble. It just depends on the mood and personality of the mistress I am troubling. For instance, The Countess can be very enjoyable when I'm in trouble. The Princess, on the other hand, can be very nasty when she's upset. Of course, even in my fantasies, I seem to get myself into more trouble than I bargained. Lucky me!!!!
The first section is The Drew Thomas Fantasy Series. A collection of medium-length stories about a loveable guy in his forties that seems to attract dominant females. I hope you enjoy reading them half as much as I did writing them.
The next section is for other writings of mine. A true story of light bondage and wonderful sex. A short essay on Amazons. And who knows what else will be added.
The next section is always under construction. It is my links page. You can bet it will have several FemDom sites and bondage sites when it is finished.
To those who stay, enjoy your reading. I have listed my writings in the frame on the left. And, of course, even a pathetic little sissy slut likes encouragement .... so feel free to e-mail me.










visitors since July 1, 2000
©copyright 1998,2000 your good boy
---
---