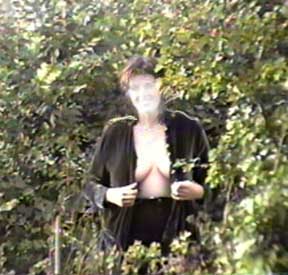 Attention men! Jacquel, "Lady of the Shadows" speaking just to you right now. On the left is a picture of me lost out in the countryside. I wonder.Do you believe that? In any event, as you can well see, I intended to attract some potential rescuer's attention.
Would you come rescue a damsel in distress such as I? Oh, I just bet you would. Of course, we'd need a precise definition of just what actions constitute "rescue" though. Yes, I know you are a gentleman. And so gallant too. Stop it. That's for later. We're gonna talk reality right now sweetheart.
Well anyway, I am pretty sure you're enjoying the effect that contemplation of my rescue is having on your own body parts. That is, those susceptible to manipulation at the moment.
You guys probably know how pages like this work cause you've been wanking over naughty pix for ages I bet. Right? If so, and if you wish to soar away on the wings of recycled electrons to a series of pictures relating to some personal problem of the moment and my solution thereof, then "CLICK". If not, read on.
You will find my pix different. "Why?", you say. Well, primarily because they are pictures of me not someone else. I'm basically quite a prim person. Often though I feel pressured by the occasional naughty thought. When that occurs I take direct action designed to relieve that stress without too much regard as to where I might be at the moment. I suppose some might say I am impulsive. So what? C'est la Vie!
You want to know more? Come over here and sit on the couch beside Jacquel, [pat, pat, pat.] We can talk of ships, shoes, sealing wax or perhaps even, naughty thoughts that might course through our fevered minds.
You can Email comments and questions to me at shadowl@bigfoot.com and there you are. It doesn't cost anything. Nothing ventured, nothing gained. Will you get an answer to your question? Maybe yes, maybe no. Actually, answers, should you get one, are free too. You see, I may or may not answer your question. It just depends on whether I feel like it at the time. You know, hormonal influences, phases of the moon, does the question provide for a cheap shot so others can laugh at your expense, whether or not you appear to be just a dumb mutt, or whatever. My choice of course.
Furthermore, in order to reduce my workload, I may just make up answers to your questions. In certain areas where my expertise is either credible or probable I may, upon occasion, elect to provide honest, sincere answers. These tend to cloak my more fanciful explanations with a certain aura of authority that would be otherwise hard to maintain since I claim to be something other than just a produce handler at a grocers. I enjoy displaying an air of gravitas and influence at cocktail parties, the hairdresser's, the butcher shop and such. If I'm not careful with the burden of truth though my workload could undoubtedly increase exponentially to an unbearable level. So expect made up answers if I do decide to answer your question(s). You'll enjoy them in any event. I am creative.
There is, as I said, no charge. Nevertheless, should you anticipate being, or actually are overwhelmed with gratitude and wish to forward very large cash contributions to me, then so indicate in an Email and I shall provide a suitable mailing address for your largess. Remember the Email address is shadowl@bigfoot.com