I bought this pretty white lace G-string to wear for this outdoor shoot that we did in August 2001 ...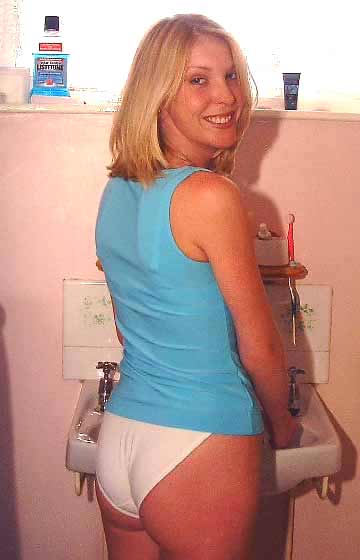 For me ... and I guess for a lot of other girls too, G-strings ain't the most comfortable kinda panty to wear.



So although I was planning on wearing the white lace G-string again for this shoot, I kept these comfy white full-back panties on while I was getting myself ready ...



But I like posing in thongs and G-strings ... specially for backshots like the next pic on the left because I think that it's really sexy how a thong kinda accentuates the shape of my vagina ...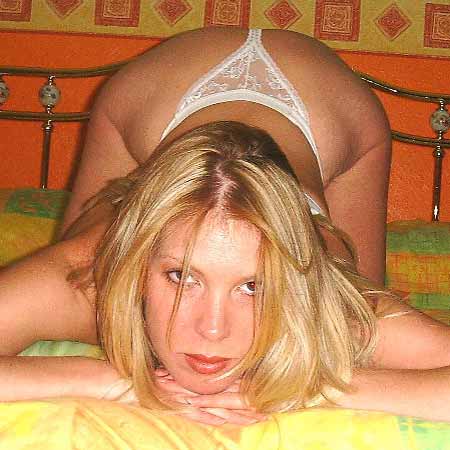 OK, I know that you have probably seen this pic a million times before ... and I hope that you have clicked on it plenty of times too ... because it's the pic that I selected for the "e-mail me" link on my index page ...

I know that a lot of guys like the pic because of the "come and fuck me" look on my face. But what that look is really saying is "hurry up and take the pic ... because this damn G-string is cutting me in half !!!"
For my boyfriend, the downside of me (and other girls) wearing thongs and G-strings under our skirts is that there ain't very much to see, like sometimes it can look like we ain't wearing any panties.

So to keep him happy, I put the white full-back panties that I had been wearing while I was getting ready, back on so that he could take some upskirts ... and this pic is another one of his all-time favorite panty upskirts ...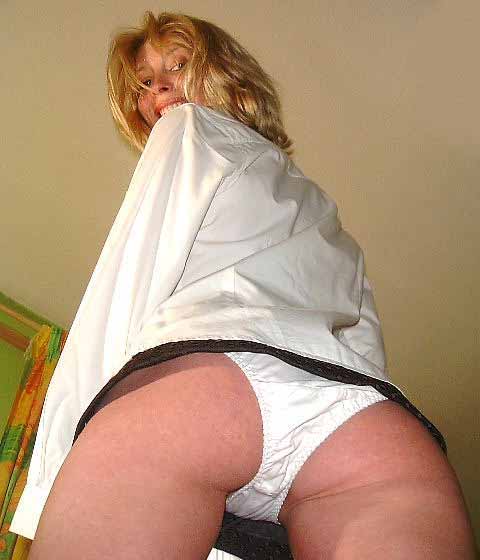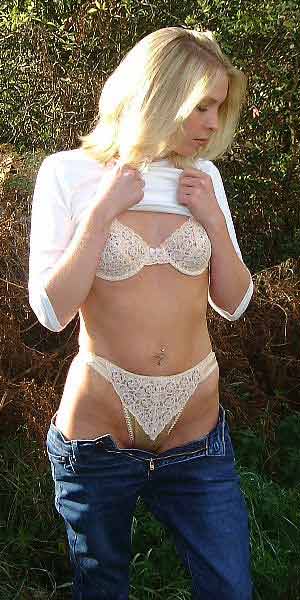 These next pics are from a shoot that I did in November 2001. I bought this real pretty gold bra and thong set so that it would match all the colors of the fall.

Although it was a nice sunny day, it was basically too cold to get naked outdoors. Just look how hard and dark my nipples are. I can tell you that it ain't very often that they get like that !!!

But although my tits were cold, my cunt was nice and hot and wet ...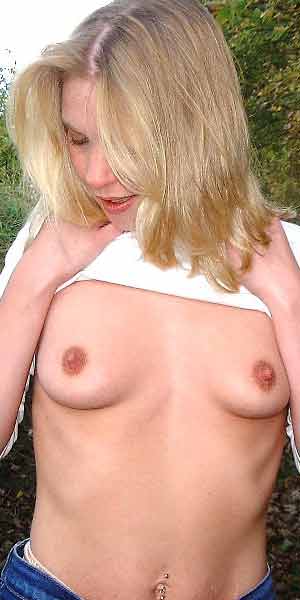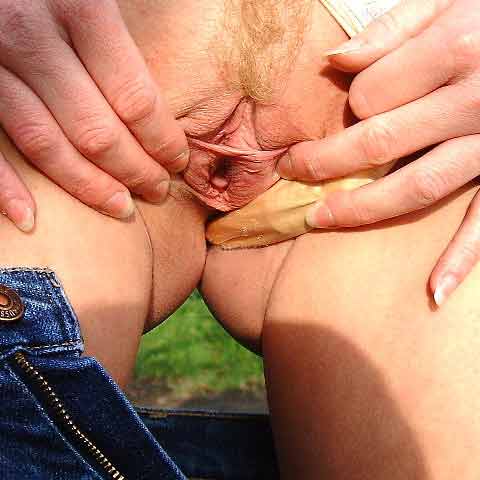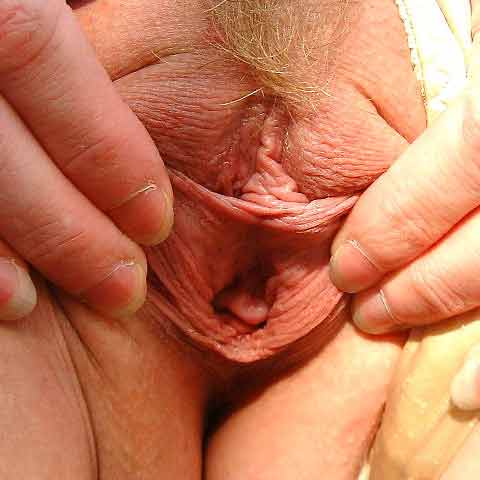 By the end of 2001 my first personal website was on line and I was starting to receive feedback about my pics ... and suggestions about the kinda pics you wanted to see ... including several requests for me to do a garters and stockings striptease ...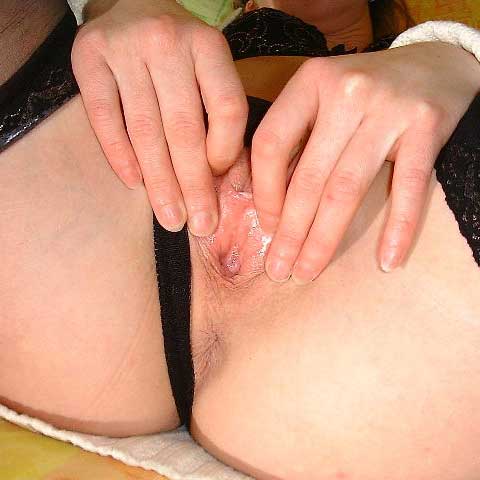 I know that I cannot please everybody all of the time, so to keep the guys who prefer to see girls in black lingerie happy, I did a black stockings strip too ...

But before I started the strip, I pulled the panties aside and spread my cunt lips because I know that it does not matter what color my underwear is, an open vagina shot will please everybody ...

I also received requests to do a pantyhose strip. Now I can understand why guys like girls in garters and stockings, but I ain't never figured out why pantyhose gets guys horny. But if guys wanna pump their cocks to me while they are looking at pics of me in my pantyhose, it ain't a problem. BTW ... I'm wearing the same bra and thong set that I did for the black stockings strip set.



If you wanna see more of
my Panties & Pubes pics
click on the pic below ...




---
Copyright © Kimberley Weston 2000 - 2006
All the pics on this page were taken after my 18th birthday
---
FREE SEX E-CARDS HERE