Why should you put yourself objects into the poo hole?
If it comes over me again and I find not immediately a horny girl to make love with me, I usually wank myself until I cum, but soon I learned, that Anal Games have their own intense attraction.
First bashful attempts have given me right, it is very clean sex, if I do it in the right way. In the meantime I put myself in times of extreme horniness even a bottle wine into the Poo, without my sphincter has taken even the slightest damage! And the orgasms were a one off, so I want to encourage you to imitate me:
Full of lust preparing Gaping
With the normal toilet visits in the morning is the rectum usually emptied for the whole day. So no fear of surprises, in healthy people, they are unfounded.
Nevertheless, a beautiful anal flushing beforehand is a delightful prelude to the coming anal pleasures and the very thought of it causes me a permanent erection. It gives me the assurance that nothing really comes out of my back and I'm sure, that everything is clean.
So, here we go - I rinse me out with warm water. To this end I have developed a simple method, as first I unscrew the showerhead. The gasket aside. The water slacken off and set the temperature carefully, preferably almost to body temperature (37 °C), adjust never warmer. A little colder - so warm - is safe. Our intestine has no temperature sensors, so watch really here. And very important: turn the water not fully on, but only a small flow: if you hold the shower hose vertically, the beam should eject up to about 5 cm this is o.k.:
| | | |
| --- | --- | --- |
| How easy this is, if the water runs slowly, it is not a problem to bring the tube into the tight butthole, here are a few pictures. | | |
And now the first pleasurable Anal Play begins, I bend down, my butt search with the hose and move the shower hose with water running into my Butthole. That's very lightweight and is really total horny! I feel how I'm anally stretched and internally filled, I let about one quarter to a half liter flow in my butt.
The rest is easy, I feel an inner urge and I bounce for safety's a bit around like a bunny and let the water out to the the toilet again. When I wipe the butt is only water on toilet paper and I'm ready for a clean Gaper.
Lubricants and fisting with fingers
Since I'm anal fisting do with myself,I have in the selection of the lubricant free choice and must not pay attention to safer sex. Here again the safe side note for partners who do anal sex: Grease and oil-based lubricants can degrade latex and bring condoms / gloves to tear!
But as I said, I have anal sex only with me, and therefore free to choose, after some tinkering, I've found that a gentle, water-based moisturizing cream delivers in combination with olive oil, the most surprising results of penetration into the depths of my poo hole! Even my sphincter Lubricants-combination obviously feels this is pleasant, and despite extreme anal stretching immediately behind firmly closed, like a virgin pussy.
| | | |
| --- | --- | --- |
| So, and now the finally enter, the first-time I play slowly with my finger and feel, how the delicious butt hole responds to the intruder. It is friendly and answers for further anal stretching with a wide open gaping. | | |
The butthole stretched further with funny toys
It continues unabated, now a couple of sex toys come off, which I relish and shove butthole extend it further: At first, my little blue buttplug, then my purple vibrator and then the long brown analstick with the four thickenings, here are some pictures:
In the pictures is nice to see, that I have my poo hole previously treated with a lubricant. Also, everyone should be careful that the pleasure rods have a thickening at the end, so that the toy is not sucked in by the poo hole.
| | | |
| --- | --- | --- |
| So be careful with those games, like here. Quickly the toys may have disappeared in the intestine, and a visit to the doctor with a vibrator in the Poo is not the best for everyone. | | |
For starters, of course, the thick specimens are not recommended, also authentic looking replica of a penis with thick veins and thick solid glans can hurt. All the intruders in your butt must have a smooth surface and shall have no seams or rough surfaces, because this can cause injury to the sensitive anus.
If you want to push something different in your butt, you can pull a condom on it - and please use proper lubricant. Here I had a long wooden rod pushed deep in my back and had it previously covered with a condom:
Gaping wide with thick bottles
Now I begin to gape the poo hole, thick dildos would be the best for this pleasure, I own these toys unfortunately not yet, failing that, I take a bottle and stretch my butt-pussy for so long that even a bottle of wine would easily fit: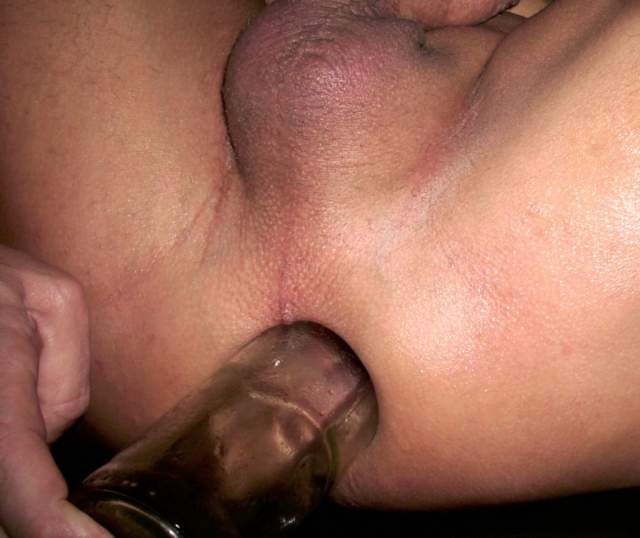 | | | |
| --- | --- | --- |
| | So looks my stretched Anal-Pussy after I had pushed me with bottles. It is good to recognize that the tight anal pussy has again contracted and is ready for a new anal adventure! | |
While gaping slides the whole hand into the Poo
Comimg soon and I will show pictures of the Poo-gaping, how I've managed to push the entire hand in the butthole. In the gallery below you can see, as I enter already busy practice with my hand. Quite now it does not work, but someday I'll make it and show you these pictures!